Community-centered arts and culture strategies are underused in movement work. By tapping into our imaginations, we have the potential to create a shared vision of a better future. In our latest conversation, In the Flow: Arts and Culture Practices for the Water Movement, the Water Hub's digital director, Jessica Jewell, spoke with four people to learn how to engage artists and organizers in climate and water movement work. In this blog, you'll see how your organization can collaborate and create powerful social change.
---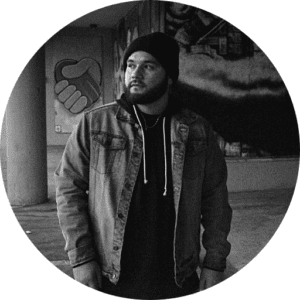 "Art is the heart of our campaigns"

-Marcus Trujillo,
Graphic Designer/Office of Laguna Learning Laguna Pueblo
---
Axel Santana: Human, Emotional & Cultural Aspects of Movement Work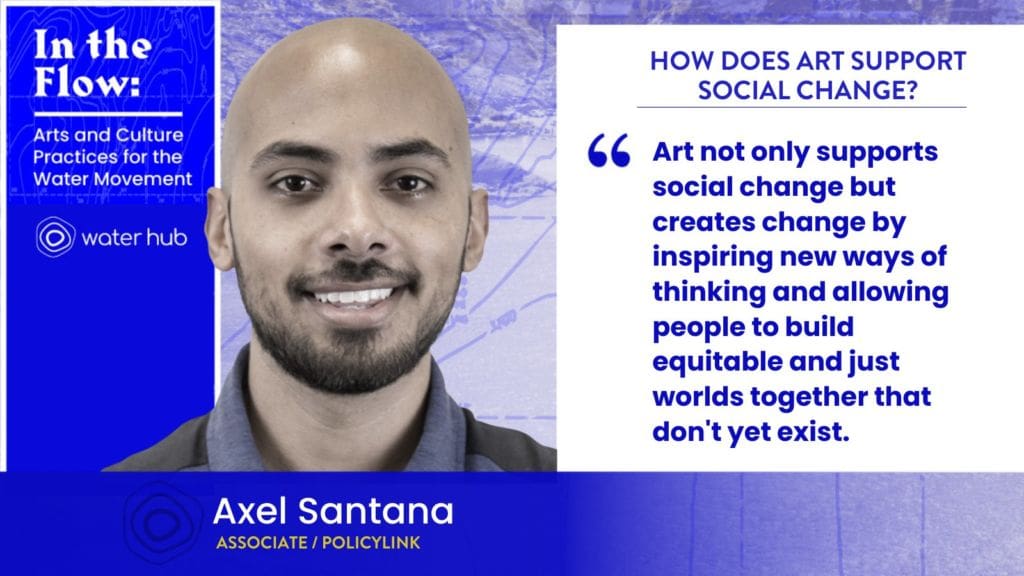 Jessica Jewell: Could you tell us a little bit more about the curriculum that you put together for the Water Equity and Climate Resilience Caucus and what you learned?
Axel Santana: [A Water Album Curriculum: Thoughtfully Leveraging Arts & Culture to Inform Policy] was a really exciting project – Benny Starr is a hip hop artist, rapper, and activist; Mika Gadsden, a cultural activist; and Nana Fofie is based out of New Orleans, who's a spiritual healer and a cultural organizer, and [she] was really sort of our advisor on this project. We all worked together to put together a podcast that highlighted some of the amazing work of our Water Equity and Climate Resilience Caucus members.
It really taught us how to value contributions from artists in a meaningful and non-extractive way. Something that Benny often says that really resonates with me is that it's not just about the product or the deliverable, but the process and the journey are just as [important], if not more important than just the output itself.
Could you tell us a little bit more about the curriculum that you put together for the Water Equity and Climate Resilience Caucus and what you learned?
I would really want to emphasize the importance of bringing in artists at the very beginning of any project to make sure that their perspectives are included.
That'll help you pursue the project, even if it means you have to fundraise together. You can create a vision, dream it up, and then seek funding, instead of always letting a funder decide or assign what they think the best use of those funds might be.
At the end of the day, it's about relationships, right? So creating better relationships and bonds between artists and organizations, which you know, can just be more impactful in the long run.
Ashley Fairbanks : Organizing, Art & Action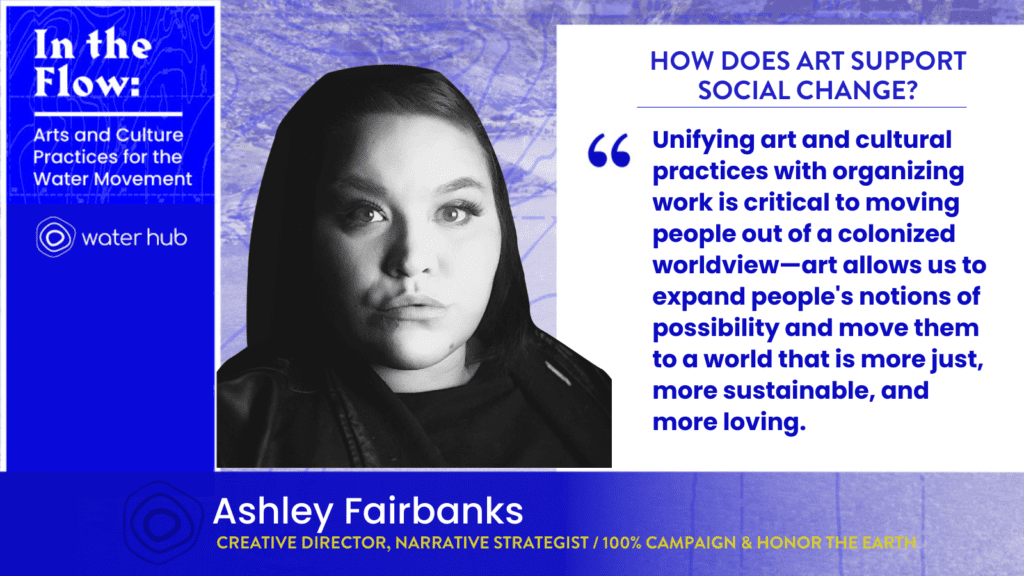 Jessica Jewell: What is the role of art in organizing and moving people to take action?
Ashley Fairbanks: With the climate crisis being so profound and causing so much grief for people, it's so incredibly important that we develop processes and engage with people who can really be visionaries.
Right now, with 100 percent campaign, we're working on a campaign called seasons of citizenship, where we're contextualizing voting as just, like, one thing we do. Instead of saying, 'this is the answer,' we're saying, in this part of the year, we do accountability work at the Capitol and in this part of the year we do mutual aid, and we build on our blocks in the summertime – so we went through and made a seasonal life for what it means to be an engaged person in your community.
Every month, people get an artist-designed postcard with some kind of call to action. We're calling them organizing missions. The goal was to actually create things pieces of mail that people would want to keep. We also designed an artist-designed planner, so [every day] people have new art about climate, actual calls to action, an explainer about how the legislative session works, and what we're fighting for in the legislature.
This has been my favorite thing lately because we just wanted to redefine what political mail meant, and really re-contextualize it for folks in a way that they would be excited to get it.
Keep up with Ashley on Twitter @ziibiing!
Jeannine Kayembe Oro: Art, Ancestors, and Community Power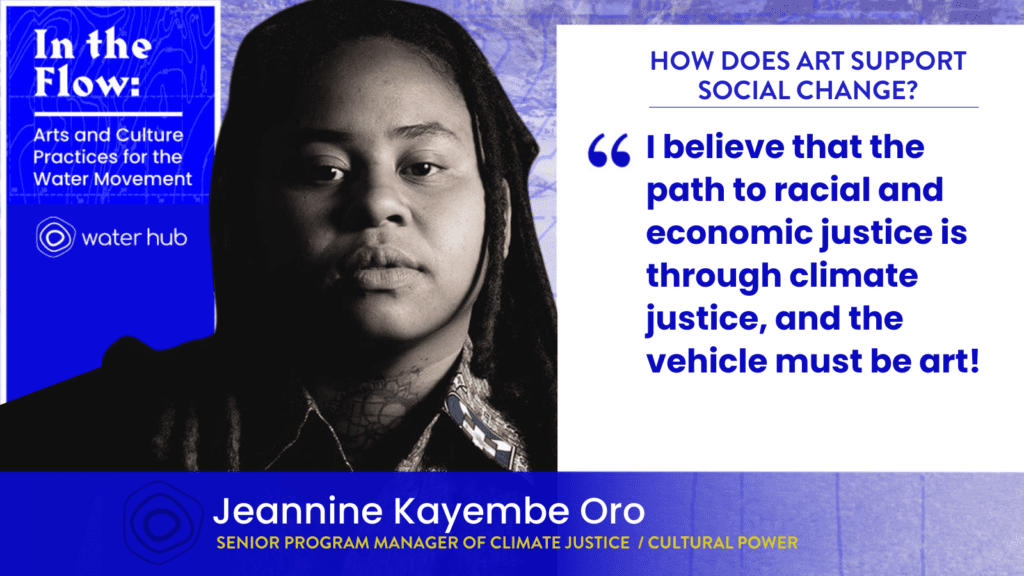 Jessica Jewell: What is important about artists having a seat at the table when we're organizing for climate justice, but also collective liberation? And, why is it so important that they are there from the start?
Jeannine Kayembe Oro: Artists are the key to culture. I believe that my ancestors called me to this work. It is important that we, as artists, are fighting for our collective liberation because it is the community block parties, it's the Shakespeares in the theater, the art exhibitions at the urban farms, it's the movies on TV – we are what create culture in this world. The collective liberation part for me is just also being a part of my ancestors wildest dreams, which was to be free, be in community, and thrive.
And that's why I love and I'm just so grateful to be a part of the Center for Cultural Power, because that is the work that we do. We recognize that this is the moment for artists to leverage our songs, our visuals, our music videos, our paintings, our murals, to just really reimagine the world in what it could be, without racism, without colonization, and with this regenerative relationship to the earth, because of all that she gives us.
To hear more from Oro 5, press play! Oro 5's EP entitled "EP.A" (environmental protection ancestral) can be listened to on all music streaming platforms. Follow @_oro5_ for music and art, and follow @rugggedqueer for QTBIPOC camping & homesteading!
Marcus Trujillo: Tradition, Passion, & Represention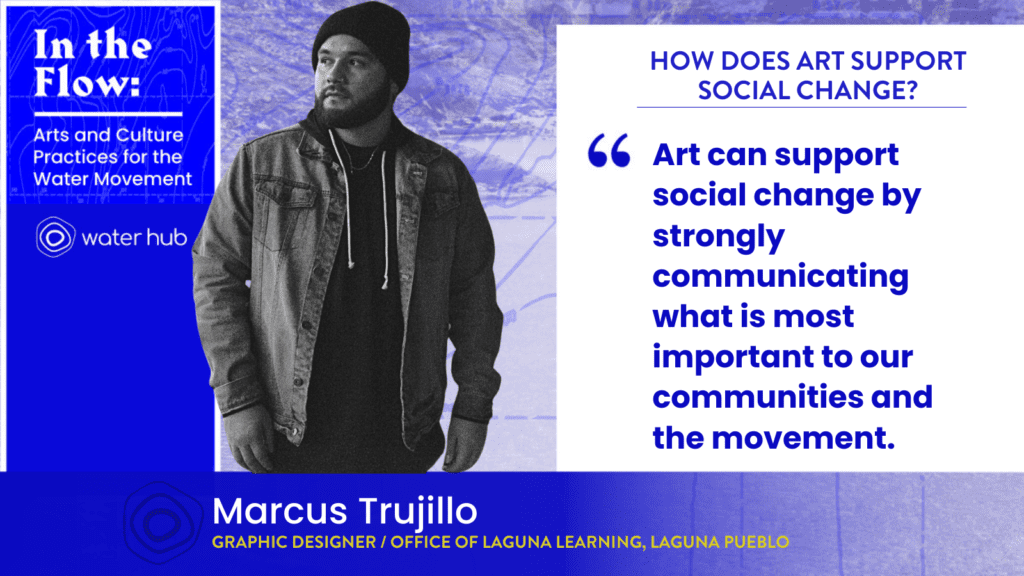 Jessica Jewell: Can you give us a real-life example of how your passion for environmental justice and giving back manifested through one of your projects?
Marcus Trujillo:
Before I started graphic design, I, [learned] that representation matters, for all of our communities. Prior to beginning graphic design, I saw a need for Pueblo Indigenous representation within the more contemporary traditional art forms.
One of the projects that I do want to share that really did speak to bridging representation and environmental justice is a zine that we created through Pueblo Action Alliance, covering Chaco Canyon. Chaco Canyon is a very special place for my ancestors and for all Pueblo ancestors. It was a central gathering place for many of the tribes here in the southwest. So, right now, the whole purpose to make the zine addressing these issues was really to provide up-to-date information regarding the current political, physical, and spiritual environment.
Through that, I [learned] a lot of the organizing aspects. Being able to bridge graphic design work with organizing was very effective. And it really did speak to our communities, directly to our land or waters, and it spoke directly to our Chaco Canyon or ancestral sacred site.
Could you share the meaning of water and how it has significance in your art and your community?
The movement, 'water is life,' you know, that's not just like a metaphor or, or a tagline. It's truth.
"Water is life. That's not just a metaphor or a tagline. Pueblo communities have always had a strong connection to water. We want to center water in our art and stories, and show how we honor it." –Marcus Trujillo
Water is for our Pueblo communities. We've always had it throughout our stories, too. We've always had a strong relationship and connection to water, whether that's through rain or if it's through rivers or lakes that are nearby.
As a Pueblo graphic designer, I want to always center [water] as a reflection of our ways of life and how we are taught to honor water and the relationships that we have. Even if that's transferred over to like a contemporary medium, such as graphic design, hopefully, it can be something that continues to be carried forth. There's also specific designs that are within our Pueblo community that represent water. There are specific symbols that speak directly to our community that portray water and those designs below to the people. To carry on those images of water, and rain clouds, and rainbows, and rivers, it's not just for the modern design, but it's carrying on these generations of teachings that were carried and passed down to us.
Can you share what that partnership and collaboration looked like, with the Pueblo femmes that were part of the design process for Pueblo Action Alliances' water back campaign?
The heart and soul of Water Back is rematriation, bringing back femme and women leadership when we're talking about water management, specifically in the southwest… Artwork is the heart of what we were trying to carry forward. Artwork was a tool used in the [Pueblo] revolution and so we want to be able to carry that forward as well within the campaigns that we do.
Our [leaders] were like, we really need to represent Pueblo images that speak to our communities because images of just regular water [aren't] enough to really communicate what we're trying to say to our communities. Really bridging the movement of land back to water back – it's really crucial that we spread this message that we literally cannot have our land back if we don't have our water back.
Follow Marcus on Instagram and get to know his work at @haatzeedesigns.