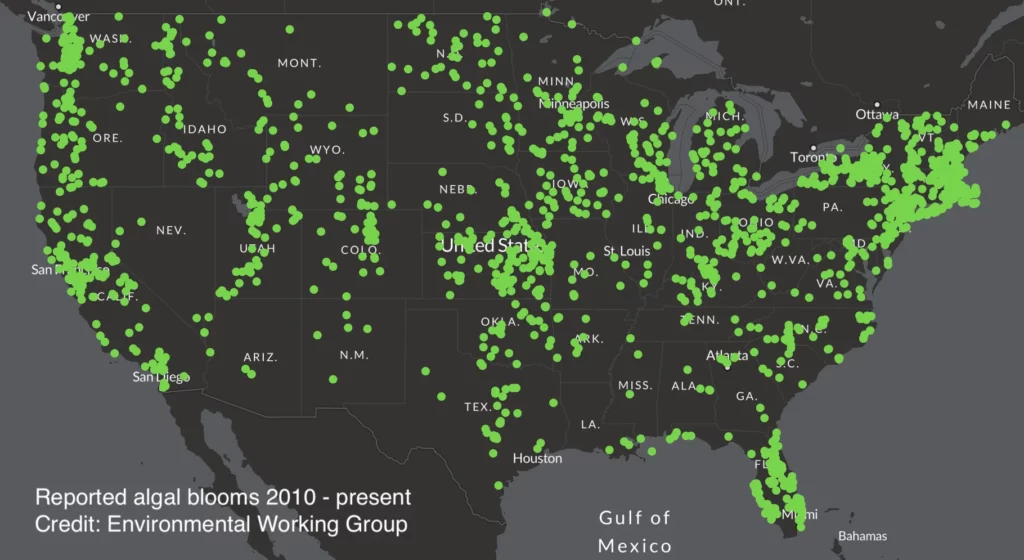 With summer in full swing, so is the season of toxic blue-green algae and the swimming and fishing closures that come with it. Local media coverage tends to do a great job of reporting on closures and health concerns so, in this issue backgrounder, we dig not only into the basics of hazardous algal blooms (HABS) but driving causes, the climate connection, and available solutions.
(Ps. We loved this San Francisco Chronicle story from earlier this month! Why toxic algae blooms are on the rise around California)
Background
The terms toxic algae, blue-green algae, or harmful algal blooms (HABs) refer to cyanobacteria that are found in all water bodies, but are only dangerous when they grow out of control due to over-fertilization — due to chemical fertilizers and manure as well as under-treated sewage.
Warmer, slow-moving water, something we'll see more of as climate change reduces river flows and increases water temperatures, creates the conditions where toxic algae thrive. Scientists say climate change will drive the spread of toxic algae.
Impacts
Solutions
To keep up with our team and get the latest communications resources or workshops, follow us on Twitter at @Water_Hub or sign up for our monthly-ish newsletter, the Water Cooler.