Celebrating World Water Day by spotlighting groundwater research across California, Texas, and Arizona.
Where you live in the United States can determine many experiences you have in life and when it comes to groundwater awareness and access to safe drinking water, the case is no different. Depending on where you live, groundwater is only made visible to you once it travels from underground pumps up to wells or when it travels through pipes to household taps. Yet this lifesource serves 29-50% of people's water needs in the United States.
What most of us miss out on is when H2O accumulates beneath the surface after rainfall or once snow melts. What most people don't see is how widely it gets distributed, how many people are fighting for it, or how far it travels to sustain us. What's often invisible is the severity of our shrinking supply, how it's being contaminated, and who's responsible for it. All these unknowns make groundwater issues tough to communicate. But not today! It's World Water Day and we've put together some information and tips around groundwater messaging to help make this invisible lifeforce visible for more people, especially those of us working in the water movement.
?For starters, groundwater is…
Everywhere: while most of us might think of rivers, lakes and streams as water sources, groundwater is found under the soil, and helps to feed rivers and streams
Drinking water: 1 in 3 people in the U.S. depend on water from public or private wells
Dropping: we use more than the rain can replenish across the states
Affected by climate change: drought and overpumping drains supplies, while rising seas turn them salty
Vulnerable to contamination: it's underneath landfills, oil wells, farms, and factories. Everything we dump on land ends up in our water
Renewable: we have to use it wisely, and work with nature to catch and store rain when it falls
For drafted messaging and graphics to share on World Water Day and beyond, check out the social pack our team put together here.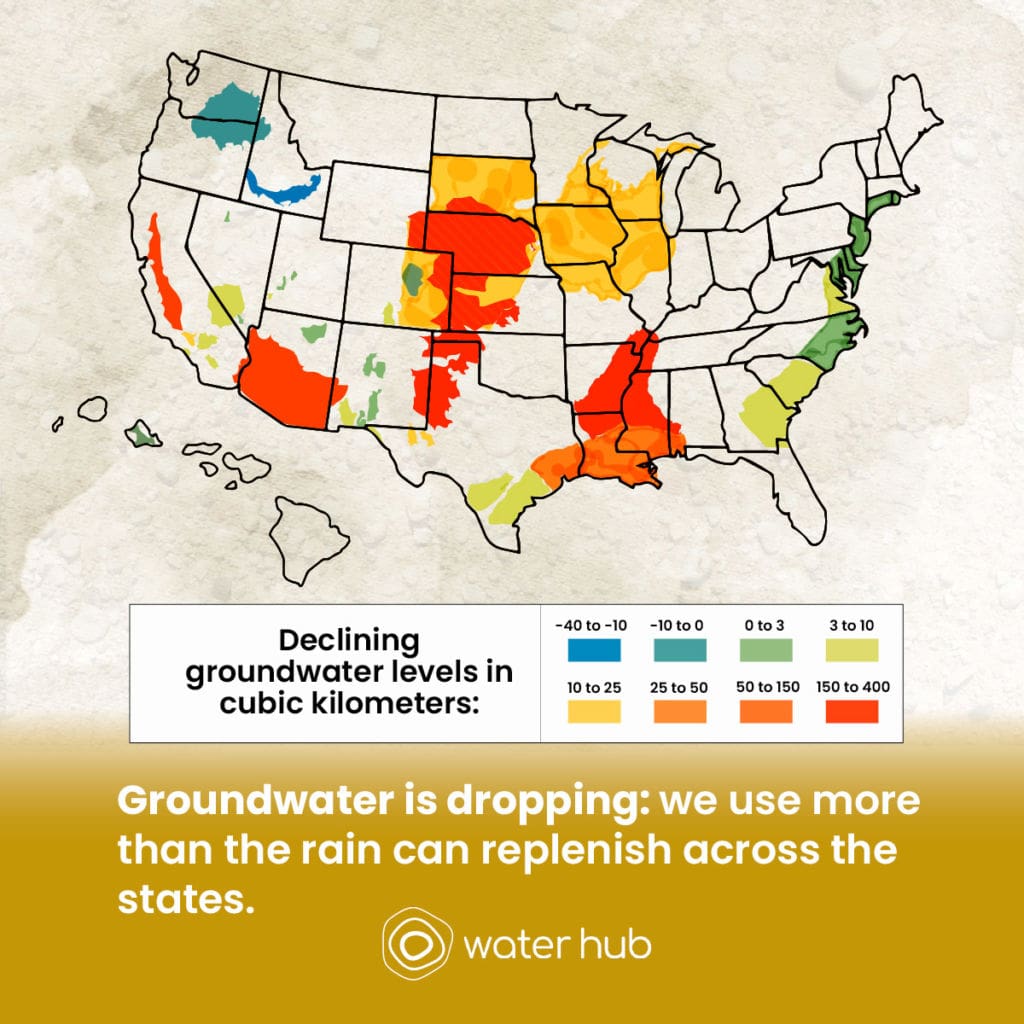 As vital as it is, groundwater isn't managed or protected in the same ways from state to state. One thing I noticed while working on the blog post is the lack of data and consequently lack of accountability that exists on groundwater and its depletion rates across the states. Let's change that. Take a look at how water advocates from California, Texas, and Arizona are pushing for more just and sustainable groundwater management.
?California. The Golden state passed the Sustainable Groundwater Management Act (SGMA) during the last major drought to reduce overpumping of shrinking water supplies. But, protective groundwater plans won't take full effect for 20 years, which isn't helpful for many communities already experiencing drying wells. Water groups are sounding the alarm that the law isn't strong enough to protect drinking water in many areas.
The Pacific Institute released a report showing that 42% of community wells in the San Joaquin Valley are at risk of going partially or fully dry under the law's requirements, with low-income communities most likely to be impacted. The report shows which communities will need to find alternative water sources and recommends steps the state can take to ensure ongoing water access, including better monitoring, and consolidating public water systems for the greater good.
As if drying wells weren't enough concern, low-income communities in the Central Valley are disproportionately impacted by agriculture-related water contamination. The Community Water Center released a tool detailing where each household's water comes from, looking at the risk of dewatering due to drought, as well as pollution concerns.
These issues are complex, and Union of Concerned Scientists' Senior Bilingual Water and Climate Scientist, Jose Pablo Ortiz Partida does a great job unpacking the science and the on-the-ground reality in this series, Climate Change in California's Central Valley. His latest post, Causes and Consequences of Epic Western US Drought, notes that California has been in reaction rather than prevention mode, echoing the recent IPCC report on social vulnerability. Ortiz-Partida presents two adaptation ideas to push for: 1) conserve water over time by switching to a more flexible agricultural system that incorporates seasonal crops and 2) expedite and enforce stricter groundwater rules.
?Texas. Groundwater provides Texans with 60% of their water needs, with about 80% of the groundwater pumped out each year going to irrigate farmland. Although it is a lifeblood in the Big Star State, overpumping is increasingly depleting groundwater supplies.
As new development in West Texas continues to rise, more groundwater is being tapped, requiring deeper wells and sinking land. The Environmental Defense Fund put together an awareness video highlighting the connection between Texas's beloved rivers and its underground aquifers, and calling for integrated management. Texas Living Waters similarly emphasizes this river-groundwater connection, and this older video from Our Desired Future shows how overpumping is drying the state's springs.
We know that building awareness can help to change policy and promote conservation. The Edwards Aquifer that supplies water to San Antonio is better protected now thanks to land conservation and a public campaign that helped residents slash water use by more than a third.
?Arizona. The Grand Canyon state took a proactive approach towards water conservation in 1980 with its Groundwater Management Act, but the issue is it hasn't been updated since. A recent report shows that overallocation over the years has led to Arizona's groundwater overdraft.
We know people relate to water locally, and this new interactive map from the Kyl Center for Water Policy at Arizona State University allows people to zoom in to conditions in their part of the state.
A new series from Circle of Blue shows how climate change is impacting water in this sprawling desert state. The first article shows cities importing water and rejecting construction companies that want to build new housing developments but lack sufficient groundwater supplies.
While the state legislature has been slow to act on groundwater, water groups have organized residents to share how the lack of regulation is drying wells, and threatening business, sports and recreation.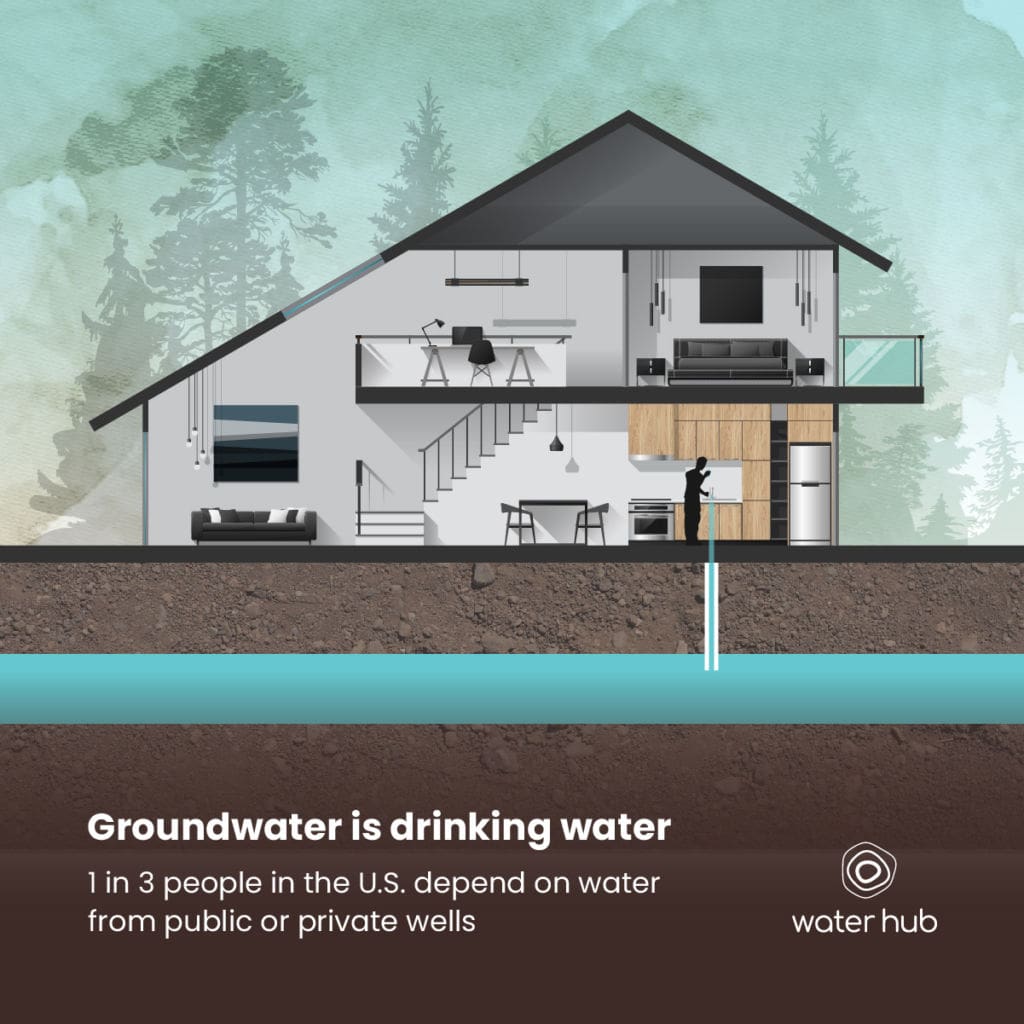 ?Flowing forward
As we continue to communicate groundwater threats from overpumping to contamination and victories like successful conservation models, it's clear that communities in cities and rural areas alike are facing an uphill battle when it comes to safeguarding this lesser known hero to humanity. So how do we help? The theme from Texas to California is proper data collection combined with community advocacy and action.
Environmental and social justice organizations are conducting groundwater research the government isn't doing and sounding the alarm. We know many of our partners are working to ensure federal water funding approved in the Bipartisan Infrastructure Law, are used to increase access to safe, clean, and affordable drinking water. Let's make their stories visible in this pivotal moment.

Follow us on Twitter at @Water_Hub or sign up for our newsletter as we stay in the flow for more resources on all things water accessibility and safety, both above and below the ground.